WHAT TO EXPECT ON THE TOUR
Beer is best enjoyed close to where it's brewed – Our Craft Beer Tour was created for fun and to expand your appreciation of this ancient craft.  Discover our hopping local craft beer scene as we visit 3 local microbreweries where we'll go behind the scenes to explore their brewing facilities, learn the basics of brewing beer ("Beer Brewing 101"), examine traditional ingredients, and uncover the roots of the national and local craft beer movement while tasting fresh, delicious craft beer!
Our local craft beer movement yields award-winning beer with flavor! – Ever wondered how beer is brewed?  What's the difference between ale and lager beer?  Why do some beers have a fruit or floral aroma?  Whether you're a craft beer newcomer or a craft beer expert, you're sure to enjoy a tour of local microbreweries, lively beer conversation, and the opportunity to sample the work of our local brew masters.   Our local guides will share their knowledge and enthusiasm for our local craft beer scene and brewing legacy.  Chances are we'll meet some of those involved in helping to make the Roanoke region a craft beer destination.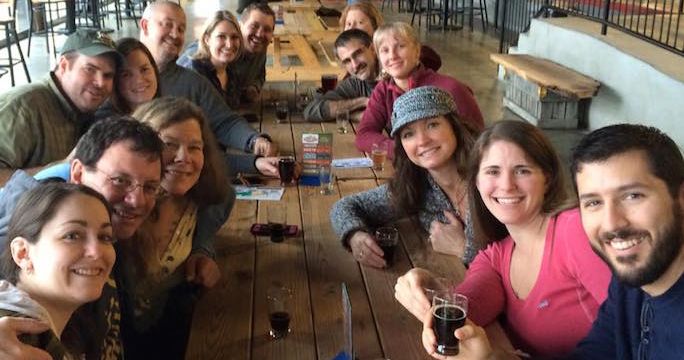 WHY TAKE THE TOUR?
Roanoke, VA has a rich beer brewing legacy (check out Virginia Brewing Company, our local brewery that beat back the mighty Anheuser-Busch in the 1890's)!  Almost 100 years since Virginia Brewing Company closed it's doors due to Prohibition, the Magic City is once again brewing quality flavorful beer.  We're part of the exploding national "Think Local – Drink Local" movement that many believe began in the early 1980's.  If your favorite beer brand ends in "Light", or perhaps you still believe that to get a quality beer you must ask for an "import" – then this tour will be a revelation!   If you're already part of the legion of craft beer fans or perhaps a home brewer – you'll savor sampling our local brews, touring the breweries and meeting new friends during our relaxed and comfortable tour.  If you're a visitor to the Star City – join us early in your stay and discover Roanoke like an insider!
Our craft beer adventure is a "must do" activity in Roanoke.  Whether you're a local or a visitor, you'll never view the Roanoke Valley the same again.
Still have questions?  See the CRAFT BEER TOUR FAQ PAGE.  Or call us directly (Toll Free) (855) 993-8687.
READY TO JOIN US?
Local Hotel Pick Up: Plan to meet your tour guide at the first brewery.  Or we can pick up guests at 3 designated locations prior to the tour.  And also return to these locations.  See the CRAFT BEER TOUR FAQ Page for details.
READY TO BUY TICKETS?
Ready to enjoy the delicious tastes, aromas and fun of the Roanoke Craft Beer Tour?
Call (800) 656-0713 or click "Buy Tickets" below to purchase tickets at EZTix.  We look forward to showcasing the tastes and sights of our region's local beers & breweries!
HAVE A GROUP? A SPECIAL OCCASION? INTERESTED IN A PRIVATE CRAFT BEER TOUR?
You can rent our bus, "Half Pint", for a private tour of up to 14 persons  – it's the perfect fun outing for wedding parties, birthdays, company functions and other groups.  See our Private Group Tour page for pricing and information.